Spell Archive: Bones of the Earth
Not all of the books found in the Spell Archive are well-worn. Today we talk about a bit of an obscure spell that I must admit I myself hadn't heard of before. I believe this also our very first druids only entry and I'm very excited to find out what sort of potential it holds.
---
Bones of the Earth
6th-level transmutation
Casting Time: 1 action
Range: 120 feet
Components: V, S
Duration: Instantaneous
You cause up to six pillars of stone to burst from places on the ground that you can see within range. Each pillar is a cylinder that has a diameter of 5 feet and a height of up to 30 feet. The ground where a pillar appears must be wide enough for its diameter, and you can target the ground under a creature if that creature is Medium or smaller. Each pillar has AC 5 and 30 hit points. When reduced to 0 hit points, a pillar crumbles into rubble, which creates an area of difficult terrain with a 10-foot radius that lasts until the rubble is cleared. Each 5-foot-diameter portion of the area requires at least 1 minute to clear by hand.If a pillar is created under a creature, that creature must succeed on a Dexterity saving throw or be lifted by the pillar. A creature can choose to fail the save.If a pillar is prevented from reaching its full height because of a ceiling or other obstacle, a creature on the pillar takes 6d6 bludgeoning damage and is restrained, pinched between the pillar and the obstacle. The restrained creature can use an action to make a Strength or Dexterity check (the creature's choice) against the spell's save DC. On a success, the creature is no longer restrained and must either move off the pillar or fall off it.
At Higher Levels. When you cast this spell using a spell slot of 7th level or higher, you can create two additional pillars for each slot level above 6th.
Spell Talk
Alright, firs off, I'm kind of surprised there's not a lot to be found on this spell online. It looks to me like the kind of spell that could turn out to be a multi purpose tool for creative players. The fact that creatures can choose to fail the save to be affected by it makes it obvious that the intent of this spell isn't simply to damage enemies.
But it isn't just the creative aspect of the spell that has potential; this transmutation spell already comes with a multitude of useful effects that can be exploited in various circumstances (which we will cover in more detail for our tips and tricks section), but as it is, restraining and causing difficult terrain are nice as is, especially if you're playing a druid or a ranger.
As much as I like the flavor and possibilities that come with this spell, I do have two minor gripes with it, the first being that, despite the aforementioned possibilities, 6th level just seems a bit too costly for what we get in return, I think the magic number for this one would be around 4th level instead. My second issue with this spell (which only furthers the first) is that 30ft just won't do the trick on many occasions, it would have been interesting to have the spell function similarly to spells like Wall of Fire where there is a max limit but the construction of the spell is up to you; I feel like this would have worked out nicely with creating different numbers of pillars as well.
Tips and Tricks
As I mentioned previously, the great thing about this spell isthat it can very much be used creatively. Yes, sure, you can also use it to incapacitate your enemies in what's probably one of the coolest fashions, but there's a lot more to it than that.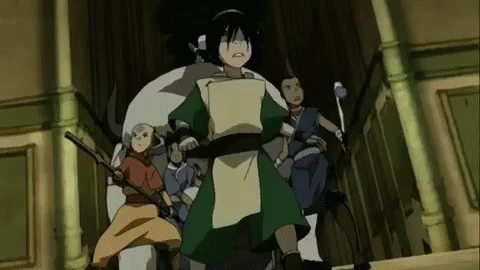 You could very much use this spell as an easy way to to get over obstacles or even propel yourself (or your friends) to where you want to be like in this gif:
Or if you're looking for something a little more combat/strategy oriented you could use them as a way to modify combat areas to your advantage; I'm sure the party rogue will be grateful for all the new places they can hide to get their sneak on.
Want to give the casters/ ranger a bird's eye view while also keeping them away from harm? This could pair very well with feather falling, and is sure to have your enemies waste at least one of their turns to get rid of it.
Reflavors
An interesting idea you could play with is checking to see if your Dungeon Master would allow you to reskin this as other elements; columns of water or pressurized air could make this the perfect spell for druid Genasi.
All in all, although technically not a reflavor, if you've ever wanted to play an Earthbender from AtlA, this spell is most definitely a must.
---
And that'll do it! Thank you guys so very much for reading through this article and supporting us. Feel free to check out our twitter and instagram for updates and come interact with us over there!