Spell Archive: Spiritual Weapon
Welcome readers, join us today in our new series called Spell Archive, an area where we take a quick look at our favorite spells, our feelings towards them, some useful tips on how best to use them, and some reflavoring ideas.
---
Spiritual Weapon
2nd-level evocation
Casting Time: 1 bonus action
Range: 60 feet
Components: V, S
Duration: 1 minute
You create a floating, spectral weapon within range that lasts for the duration or until you cast this spell again. When you cast the spell, you can make a melee spell attack against a creature within 5 feet of the weapon. On a hit, the target takes force damage equal to 1d8 + your spellcasting ability modifier.
As a bonus action on your turn, you can move the weapon up to 20 feet and repeat the attack against a creature within 5 feet of it. The weapon can take whatever form you choose. Clerics of deities who are associated with a particular weapon (as St. Cuthbert is known for his mace and Thor for his hammer) make this spell's effect resemble that weapon.
At Higher Levels. When you cast this spell using a spell slot of 3rd level or higher, the damage increases by 1d8 for every two slot levels above the 2nd.

---
Spell talk
Spiritual weapon is a cleric's bread and butter. As someone who has run as and Dmed for a few clerics I can say that this spell is extremely useful. Clerics aren't traditionally the damage dealers (with a few exceptions), so this spell allows one to feel like they are contributing to hurting those enemies. This spell has a decent range, is summoned as a bonus action, and probably one of the best possible features that very few spells like these have and that is the dreaded Concentration. You can take as many hits as you want and it won't affect this spiritual buddy in anyway; even if you go down the spell technically is in effect, meaning if you get back up and a minute hasn't passed then you can go right back to commanding it to smack your enemies. And to make this little helper even better, it deals force damage and allows you to add your modifier to the damage. Even casting this weapon at its base level of 2nd level adds an extra worry that enemies have to not try and avoid, but I promise you they won't even try to avoid it. Most enemies ignore this weapon to focus on the characters, leaving them open to a constant bonk on the back of the head repeatedly. Spiritual Weapon, I think, is one of the coolest simple spells out there and one of my personal favorites.
---
Tips & Tricks
This spell is pretty solid but it has one downside and that is a movement speed of 20 ft. each turn. This can have your Spiritual Weapon feeling lackluster if its a fairly big map. So, on big maps refrain from using this one unless the enemy is cornered. In that same vein if you have an enemy that is very movement based and never stays still for long, constantly keeping out of range then this spell might suffer.
Pro tip, on subsequent turns after summoning the spiritual weapon you can move it up to 20 ft. You might have to check the ruling on this, but if you can move it after attacking an enemy with it, then move it closer to another enemy or in the direction where you think your enemy might go; that way, if you successfully predict the enemies movement, that 20 ft. range won't be as much of a nuisance.
Also, be aware of the wording of the spell. A prone enemy or an enemy that is hit with a Faerie fire gives advantage on the attack roll meaning the spiritual weapon would get advantage. However, if you play with the flanking optional rules or if you have a rogue partner that benefits from having an ally within 5ft of enemy creature for sneak attack then neither of these would work with Spiritual Weapon.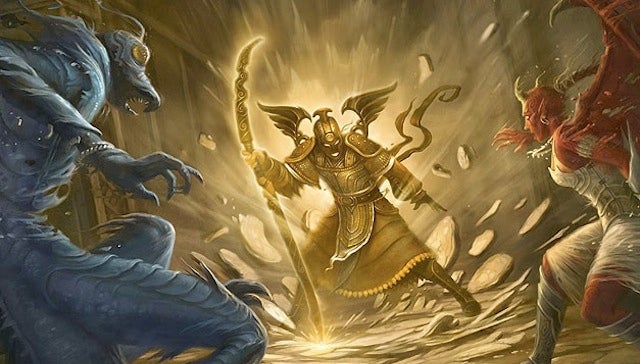 ---
Reflavors
"The weapon can take whatever form you choose. Clerics of deities who are associated with a particular weapon." This right here is a player's best friend. You can reflavor any spell in the game to essentially look like whatever you choose but it is easy to forget that. This text essentially tells the player "hey, be creative." But why stop at just a weapon associated with a deity? I play with one player who summons a little spiritual fox that attacks their enemies! They describe their little fox as it hops through the air and takes a spiritual bite out of evil.
Other ideas can include; the literal spirit of vengeance,the Grim Reaper with its scythe (especially if you are a grave or death cleric), a protective spirit that hovers and attacks your enemies, an animal ally who normally can't fight that becomes translucent and is able to attack enemies. If you have more of a techie character they can create a shotgun like weapon that floats around, or a little robot companion that floats around and punches people. The possibilities are endless! If you have a theme to your character, then get creative and match that theme as best you can. Also, don't feel beholden to one form, you can change it every time you summon it which opens up even more possibilities. Spiritual Weapon is an amazing spell and don't let anyone tell you different. So, go out there; smack some enemies and be creative!
If you liked this article and would like to know whenever we post new content, consider following us on our social media. If you have any suggestions for spells or topics you would like us to cover, drop us a message in our forums.